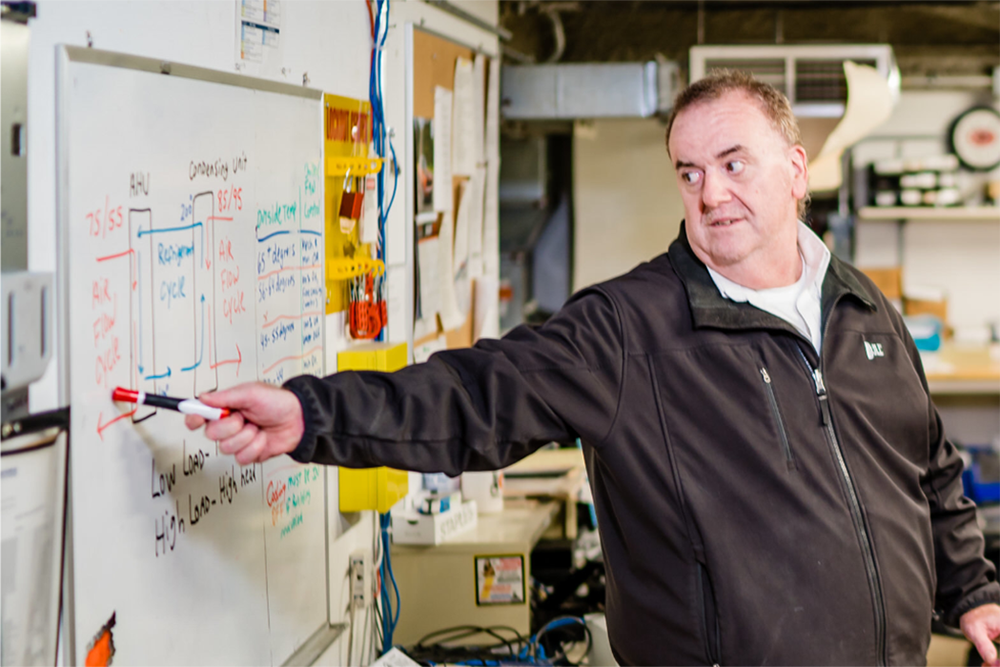 A volunteer Board of Directors oversees the strategic direction of the Foundation, from identifying the regional workforce challenges through their extensive experience in the commercial real estate industry, to planning the internship program so it equally benefits students, partner institutions, and AOBA member companies that participate as sponsors.
2019 Board of Directors
Foundation Management
Marc Fischer, CPM®, RPA®, CCIM®, LEED® Green Associate, BOMA Fellow
Interim Executive Director
Prior to joining the AOBA Educational Foundation, Marc Fischer was nationally recognized as an innovative and dynamic leader in the commercial real estate industry.  For a quarter century, he excelled at building and leading large and diverse real estate organizations that serve some of the most discriminating institutional investors.
In addition to his commercial real estate experience, Marc is also an accomplished author, a sought-after speaker, and a talented instructor.  He is passionate about the Foundation's workforce development mission, and his unique background in both business and education serve the Foundation well.
As the Interim Executive Director, Marc is the chief executive officer of the Foundation.  He is responsible for establishing the organization's strategy (in concert with the volunteer board of directors), building a team of professionals that will collaborate to deliver the Foundation's mission, and overseeing AEF's administration, operations, and fundraising.
marc@aobafoundation.org | (o) 202.838.2910 | (m) 410.977.2956
Sarah Benson
Director of Outreach
Prior to joining the AOBA Educational Foundation, Sarah Benson spent the majority of her career in management, sales, and marketing.  She has managed branch-based teams (crew level and sales people) in the commercial landscaping industry, and she oversaw all sales and loan officers at a local credit union.  She has created many long-lasting relationships with clients, vendors, and executives.
Sarah has been a focused business leader who has achieved superior results through efficient operating practices, and she is adept at implementing best practices to meet financial and performance goals.
As the Director of Outreach, Sarah is responsible for establishing partner relationships with local school systems, college and trade school training programs, and community outreach organizations.  In addition, she fosters relationships with our sponsor companies.  She works with various constituents to build a pipeline of candidates for AEF's internship program and other initiatives.  Sarah is committed to the Foundation's mission to promote careers in commercial building operations, engineering, and maintenance
sarah@aobafoundation.org | (o) 202.838.3903 | (m) 443.791.8067
Shara Kurcz
Workforce Development Manager
Prior to joining the AOBA Educational Foundation, Shara Kurcz worked for nine years as a property manager in the commercial real estate industry.  Previously, she was a successful corporate recruiter who worked to link job seekers and employers in the Metro DC area.
As the Workforce Development Manager, Shara plays a strategic role in identifying prospective interns and job seekers who are interested in positions in commercial building operations and the skilled trades.  In addition, she provides support services – including , resume writing and interview coaching – to help candidates successful navigate the hiring or selection process.  Shara also works closely with employers to understand each company's unique staffing needs.  By building relationships with both job seekers and employers, Shara is on the "front lines" of the Foundation's mission to promote careers in commercial building operations, engineering, and maintenance.
shara@aobafoundation.org | (o) 202.607.2132 | (m) 202.706.1731
Maia Krapcho
Internship Manager
Prior to joining the AOBA Educational Foundation, Maia Krapcho worked for more than 21 years in various human resources roles at Howard County General Hospital. There she was responsible for coordinating adult learning programs, identifying and coaching instructors, scheduling classes and instructors, and a variety of other project management tasks. In addition, she tracked employee data and course completion statistics, wrote and revised hospital policies, and identified opportunities to improve efficiency.
As the Foundation's Internship Manager, Maia plays a strategic role in coordinating all logistical aspects of the internship programs, including applicant screening, staffing, site selection, and materials management. She will also act as a liaison between internship sponsors and interns to ensure everyone has the tools and support required for success.
maia@aobafoundation.org | (o) 202.607.2133 | (m) 202.706.1544
Marie L. Tibor
Marketing & Communications Consultant
With extensive experience in media relations, communications, project management and international marketing, Marie joined the Foundation in January of 2019.  Previously, she served for more than a decade as Director of Communications and Education for the Apartment and Office Building Association of Metropolitan Washington (AOBA).  In 2017, Marie managed AOBA's Engineering Talent Task Force, a committed group of Association members who recommended the establishment of the Foundation and articulated its mission.
Before diving into the property management arena, Marie was Vice President-Communications for the Greater Washington Board of Trade, overseeing all communications for the regional chamber of commerce, as well as for their economic development marketing affiliate. She began her career by putting her strategic communications skills to work for the region's tourism industry, serving in executive positions over 16 years with the Washington, DC Convention and Visitors Association (now Destination DC.) In this role, she was a frequent speaker and media spokesperson, traveling the world to promote the nation's capital as an international tourism destination.
At the AEF, Marie is responsible for enhancing the Foundation's brand and promoting the Foundation's programs to all stakeholders.
Jill Sellers
Administrative/Project Manager